>> Anticipate your patients' analgesic needs <<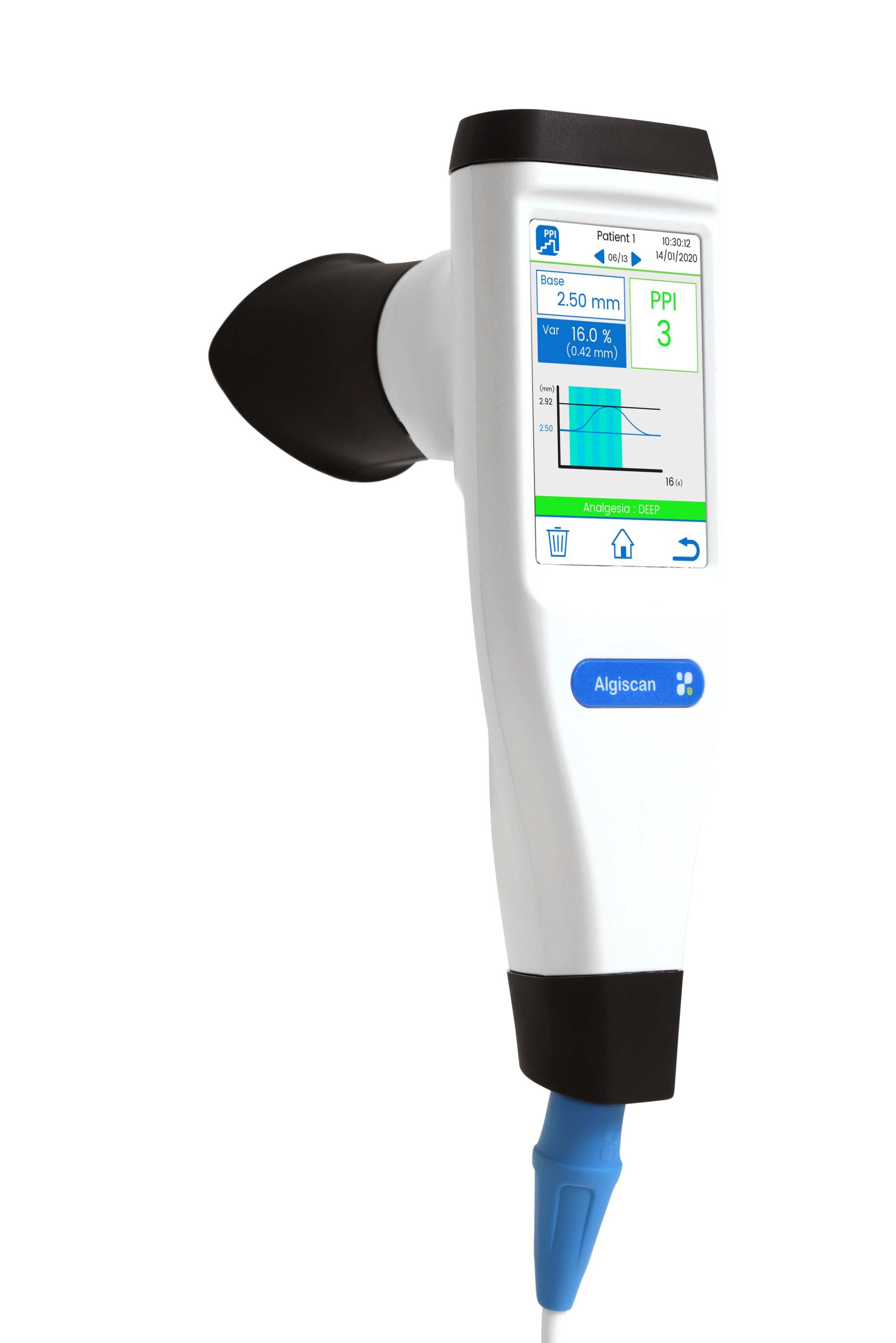 The AlgiScan uses pupillometry technology to objectively measure the patient's level of analgesia.
This technic is well published and documented. It offers robust and relevant results for the evaluation of the sensibility level to nociception and the prediction of haemodynamic reactions to nociceptive stimuli. The fast and non invasive measurements bring unequalled precision while safe for the eye.
High resolution video sensor
>> Individualise your analgesia  with AlgiScan<<
Evaluate the sensitivity threshold to nociception
Optimisation of opioid titration
Based on the actual patient needs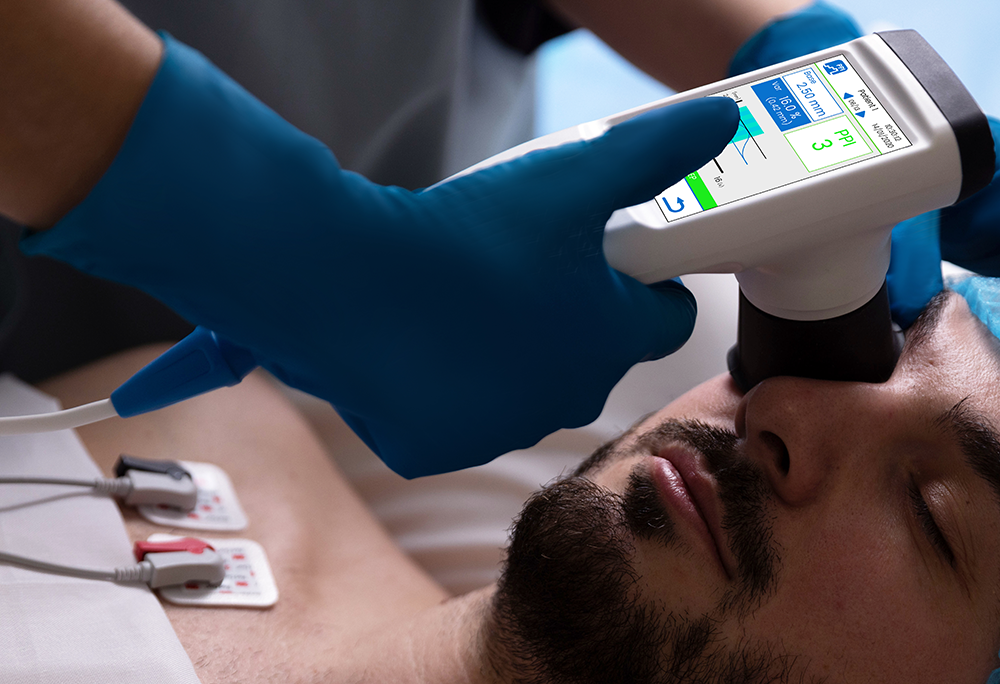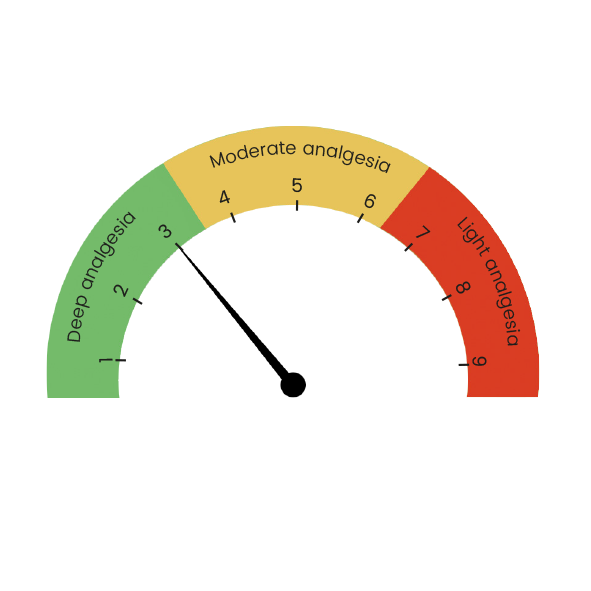 Clear and intuitive

Instantaneous and accurate measurements

Widely published and documented technique
>> Predictive Decision Support <<
Determine the appropriate level of analgesia
Anticipate the response to intraoperative stimuli
Prevent excessive nociception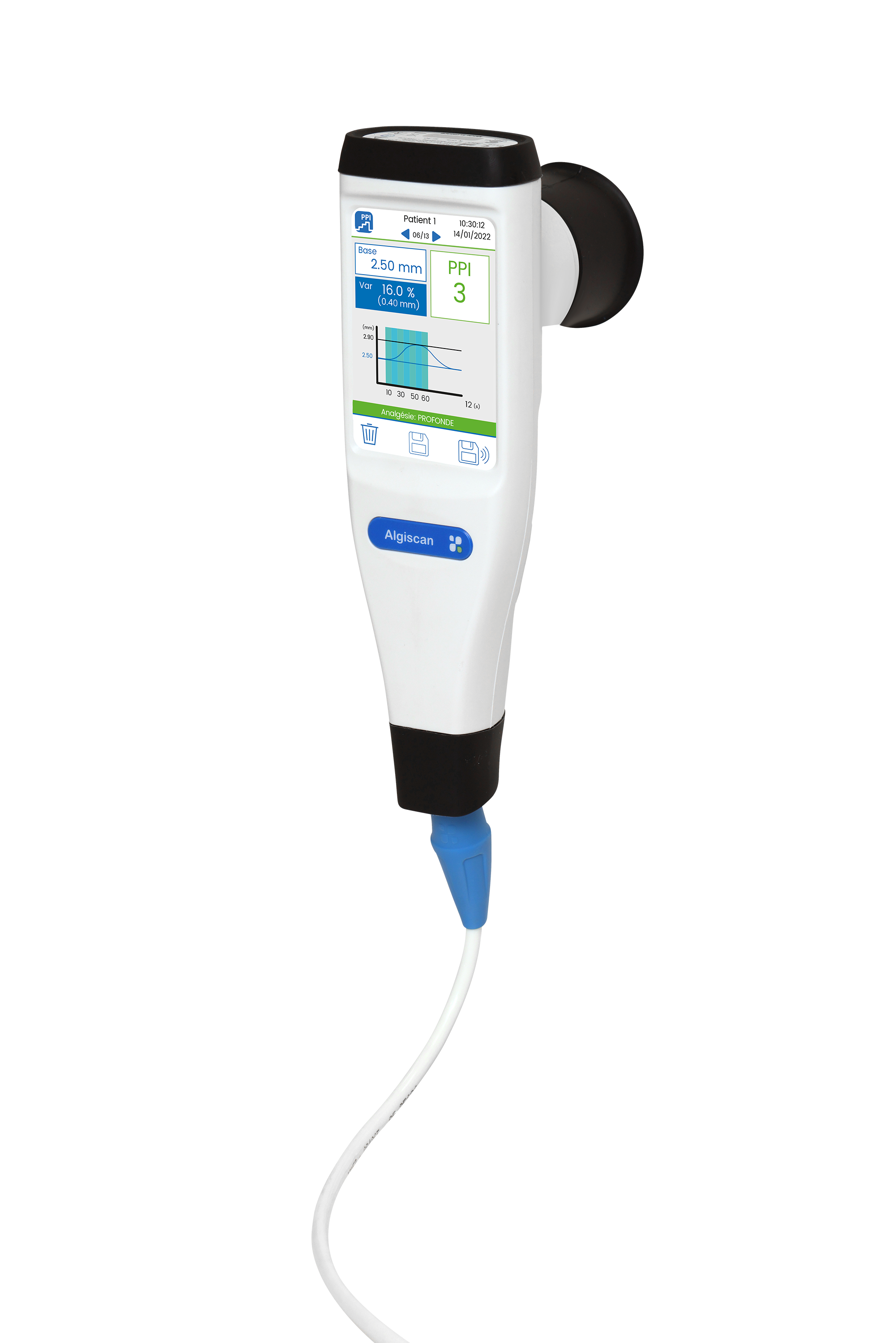 >> Designed for the OR, PACU and ICU<<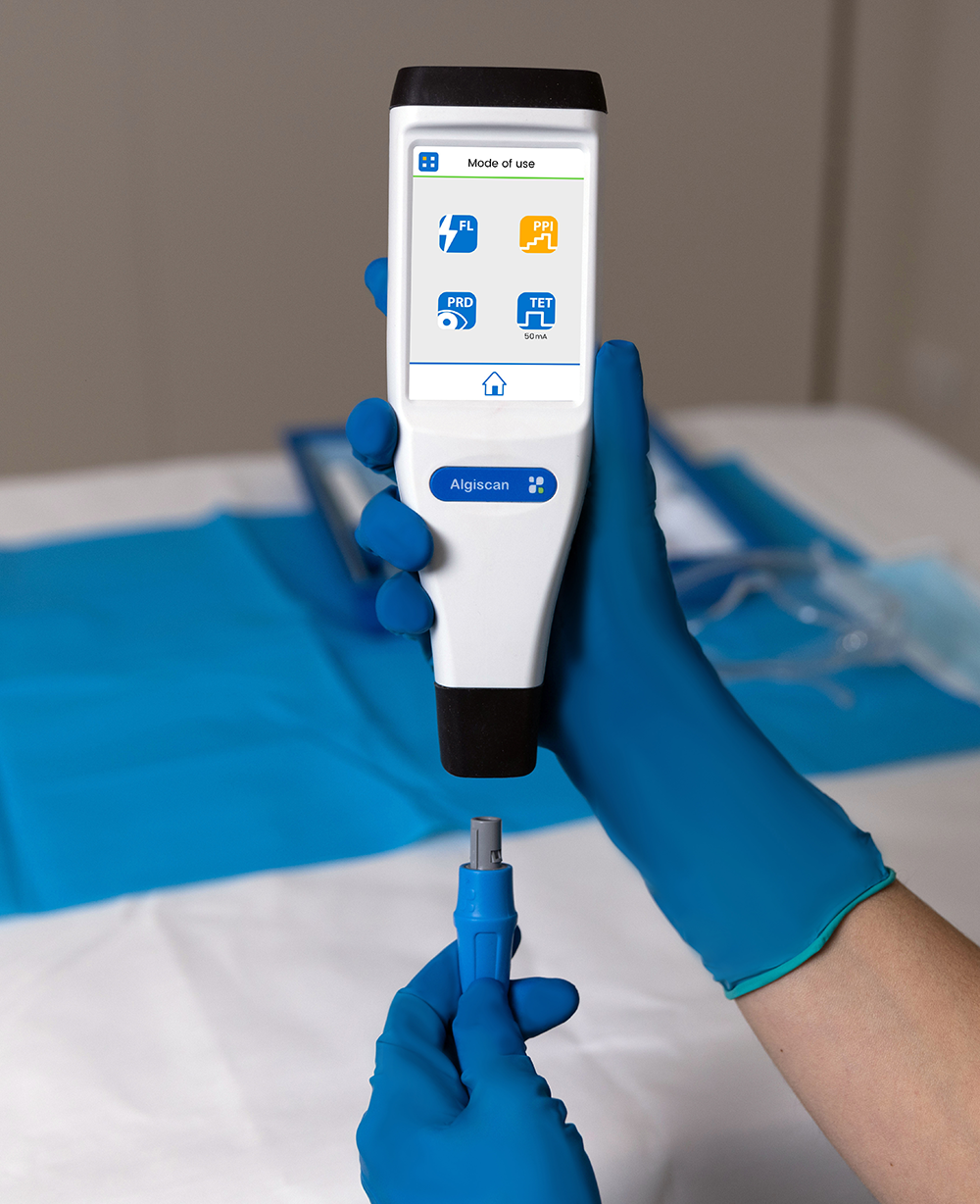 Lightweight and portable
Easy to use
Reusable eyecup

Measurements of patients' analgesia level (PPI score, Tetanus,…)
Pupil Reflex Dilation (PRD)
Pupil size
Photomotor reflex

Absolute measurements without calibration
Wireless charging station
Barcode scanning for patient identification
Reusable or disposable eyecup

Stimulations : infra-nociceptive (PPI), Tetanos
320 Lux flash of light
0,1 mm precision
Data transfer
Opaque eyecup to impede ambient light

EN60601-1 (Medical Electrical Equipment)
EN60601-1-2 (EMC)
IEC 62471 (Infrared light)
IIA CE Class (CE 0549)
Latex Free

We are an
eco-friendly company

Open ended choice of
disposable or reusable material


Sabourdin N, Giral T, Wolk R, Louvet N, Constant I.
Pupillometry is a non-invasive monitoring technique, which allows dynamic pupillary diameter measurement by an infrared camera. Pupillary diameter increases in response to nociceptive stimuli. In patients anesthetized with propofol or volatile agents, the magnitude of this pupillary dilation is related to the intensity of the stimulus. Pupillary response to nociceptive stimuli has never been studied under ketamine anesthesia. Our objective was to describe pupillary reflex dilation after calibrated tetanic stimulations in patients receiving intravenous ketamine. After written consent, 24 patients of our pediatric burn care unit were included.
Paulus J, Roquilly A, Beloeil H, Théraud J, Asehnoune K, Lejus C.
This study aimed to evaluate the pupillary dilatation reflex (PDR) during a tetanic stimulation to predict insufficient analgesia before nociceptive stimulation in the intensive care unit (ICU).
Jakuscheit A, Weth J, Lichtner G, Jurth C, Rehberg B, von Dincklage F.
Immediate postoperative pain could be prevented by the administration of long-lasting analgesics before the end of the anaesthesia. However, to prevent over or underdosing of analgesics under anaesthesia, tools are required to estimate the analgesia-nociception balance.
Our product range market availability differs for each country. Please contact us to know which product is available in your country.
Our partners and distributors are at your service to meet your needs and the needs of your patients.

      Distributeurs implantés
      *Distributors located

      Distributeurs en cours d'implantation
      *Distributors being implemented

Hôtel Technoptic
2 rue Marc Donadille
13013 Marseille – FRANCE