WiTOF is the first wireless NMT monitor.
Real-time control of the neuromuscular blockade As a true monitor of the neuromuscular block, the WiTOF has a graphic interface for precise control of its depth. It allows to visualize and anticipate the recovery and to manage well the antagonism. The setting up of events gives the possibility to alert the user at any time of the actual level of the patient blockade.
Secure wireless transmission WiTOF's wireless sensors simplify patient accessibility and allow for optimal positioning of the monitor in the operating theatre. IDMED has provided the WiTOF with a set of algorithms and protocols that guarantee a wireless communication that is both robust and secure. Accessibility to the hand or foot of the patient is no longer a default choice but a decision of the practitioner.
Intuitive handling Its sensors integrate electrodes sockets ideally spaced to control the inter-electrode distance to ensure the optimal electrical stimulation. They continuously monitor the impedance of the patient and are illuminated with colored flashes in order to instantly validate the quality of the stimulations.
WiTOF solves the problems of monitor-patient connectivity and offers total control of the depth of the neuromuscular blockade.
Anesthesia teams will manage cases with ease and efficiency with the wireless sensor. All the WiTOF sensors make use of three-dimensional accelerometry for the actual measurement of movements with advanced accuracy and to dispense with any calibration process.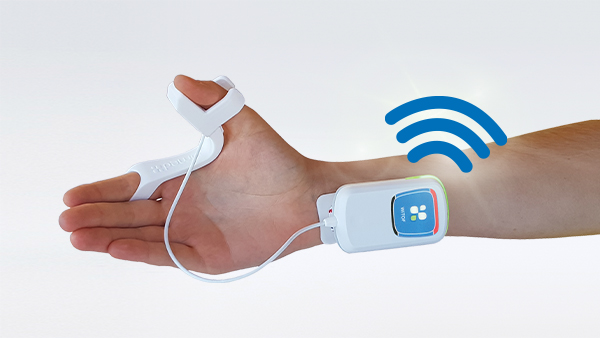 Simplified accessibility to the hand or the foot of the patient
The sensor is charged on the station in a built-in holder
Controlled gap between the electrodes
Impedance light signal on the sensor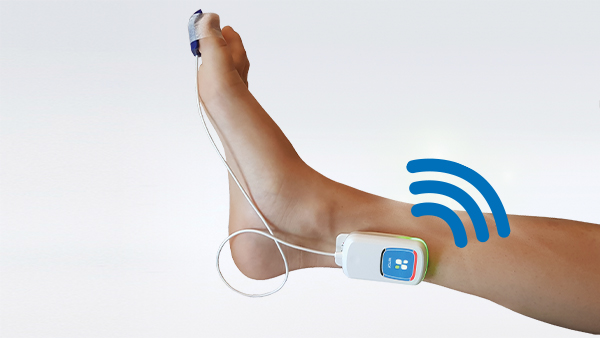 TOF (Train Of Four)
Automatic TOF
ATP (Automatic TOF-PTC)
PTC
DBS (3.3, 3.2)
Single Twitch (0,1 ; 1 Hz)
Tetanus 50 Hz / 100 Hz
Trend curve
Continuous monitoring

MEASUREMENTS
(3D accelerometry)
TOF mode : T4/T1
TOF mode : T4/Tref
TOF mode : count
PTC mode : count
DBS mode : count

3D accelerometer sensor hand and foot
No calibration required
Adjustable stimulation current
Monitoring the depth of blockade
Event management
Automatic sleep mode
Fixing clamp
Connectable monitor
Mains power supply

EN 60601-1 (Medical Electrical Equipment)
EN 60601-1-2 (EMC)
2A CE Class (CE 0459)

We are an eco-friendly company

Open ended choice of
disposable or reusable material


Colegrave N, Billard V, Motamed C, Bourgain JL.
Quantitative neuromuscular monitoring is now widely recommended during anesthesia using neuromuscular blocking agents to prevent postoperative residual paralysis and its related complications. We compared the TOF-Watch SX™ accelerometer requiring initial calibration to the TOF-Scan™, a new accelerometer with a preset stimulation intensity of 50mA not necessitating calibration.
Our product range market availability differs for each country. Please contact us to know which product is available in your country.
Our partners and distributors are at your service to meet your needs and the needs of your patients.

      Distributeurs implantés
      *Distributors located

      Distributeurs en cours d'implantation
      *Distributors being implemented

Hôtel Technoptic
2 rue Marc Donadille
13013 Marseille – FRANCE