>> Anticipez les besoins analgésiques de vos patients <<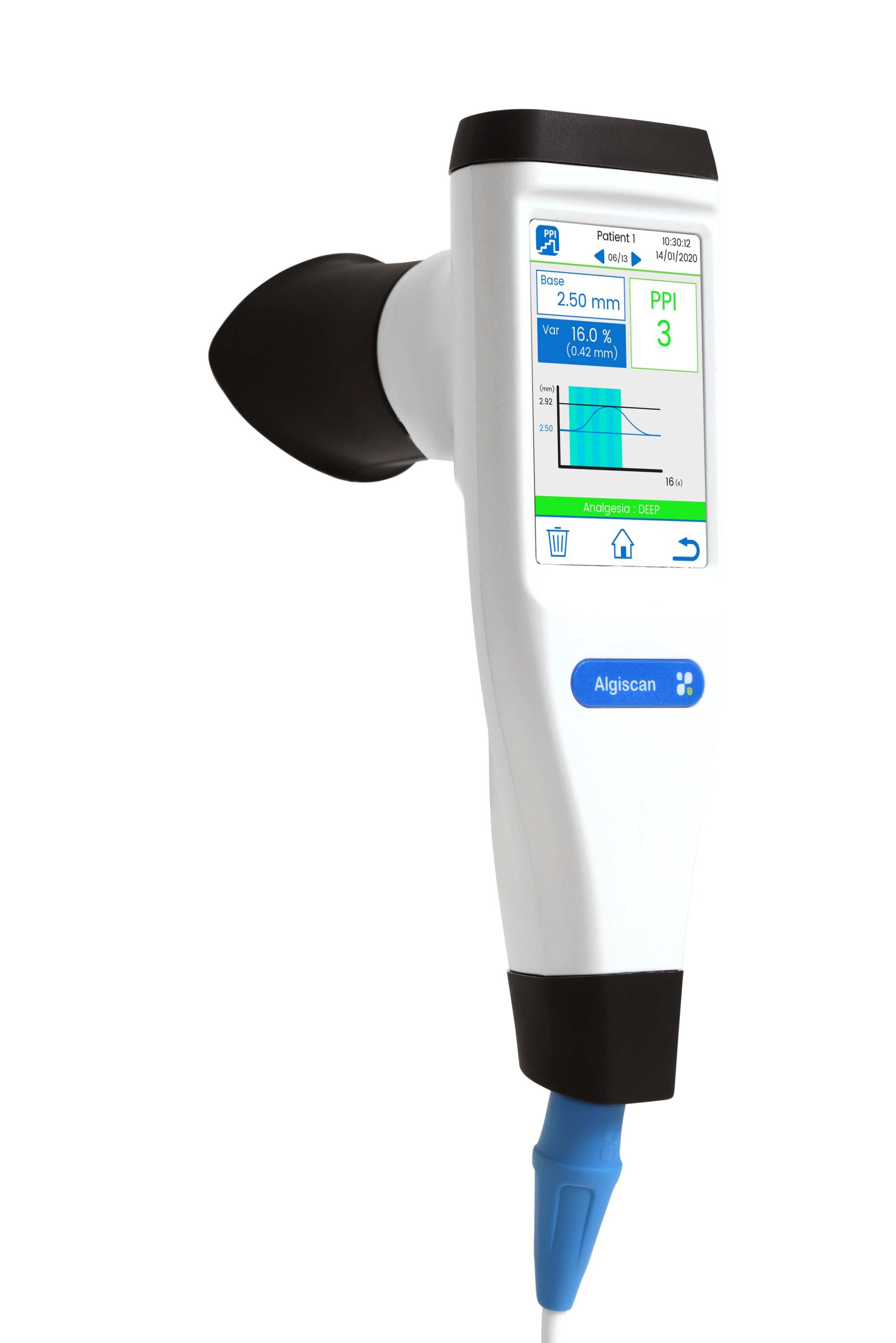 L'AlgiScan permet de mesurer de façon objective le niveau d'analgésie des patients en utilisant la technique de la pupillométrie.
Cette technique largement publiée et documentée a montré sa pertinence et sa robustesse tant dans l'évaluation du niveau de sensibilité à la nociception que dans la prédiction des réactions hémodynamiques aux stimuli nociceptifs. Ces mesures rapides et précises apportent une précision inégalée tout en protégeant l'oeil du patient de toutes lésions ou dessèchement.
Capteur vidéo haute résolution
Mémoire de stockage interne
>> Individualisez vos protocoles en analgésie avec l'Algiscan <<
Evalue le seuil de la sensibilité à la nociception
Optimisation du titrage des opioïdes
Basé sur les besoins réels du patient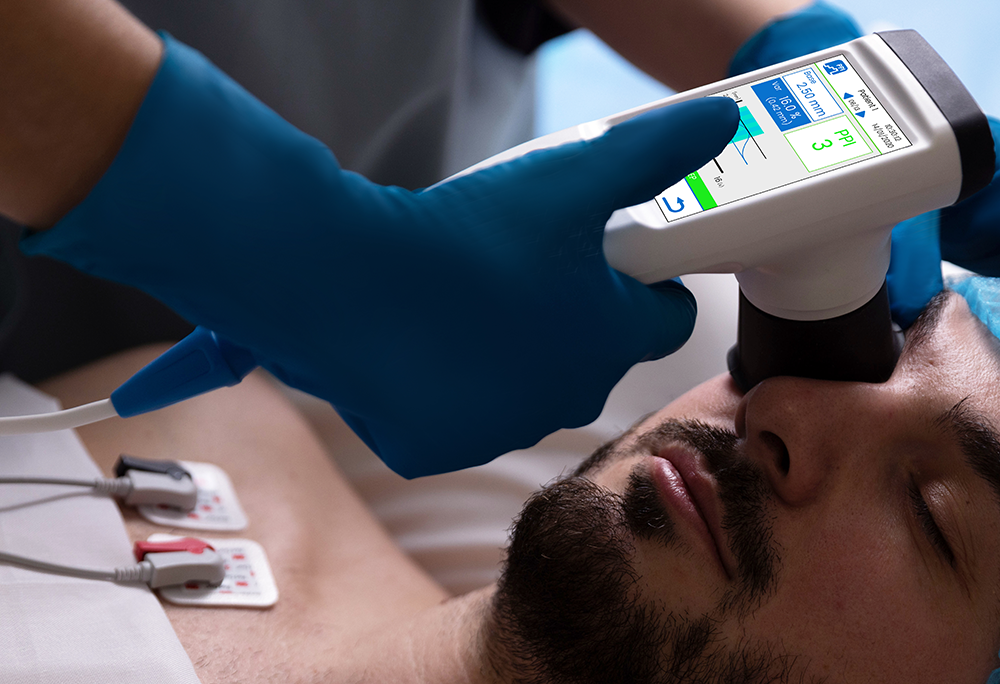 >> Interprétation du score PPI <<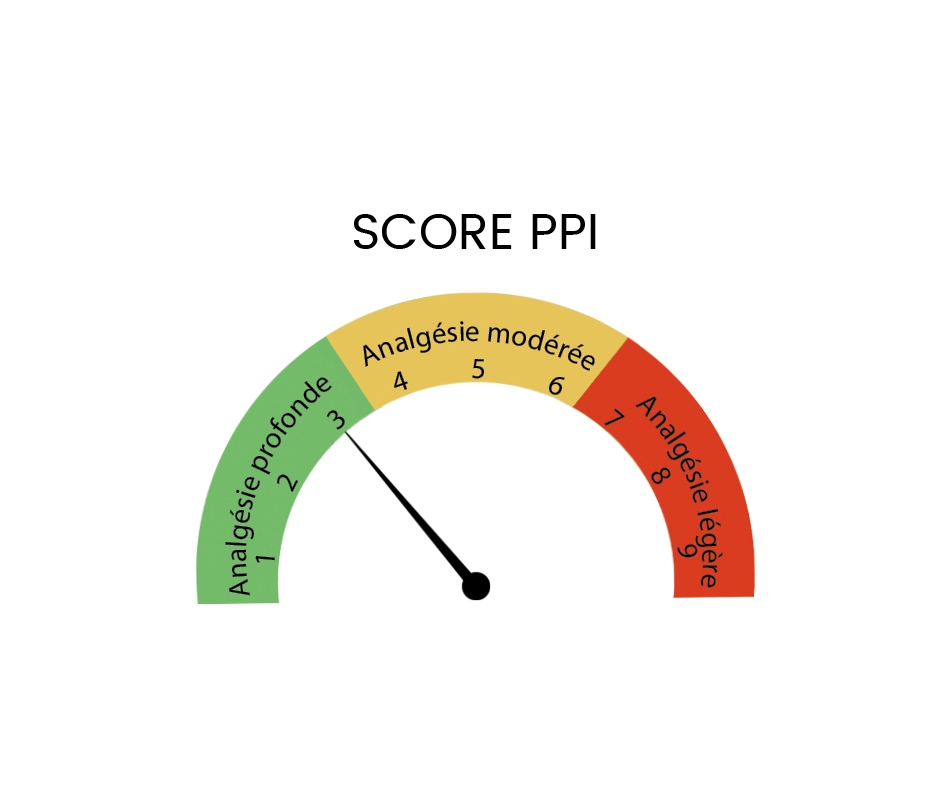 Clair et intuitif
Basé sur des mesures instantanées et précises
Technique largement publiée et documentée
>> Mesurez de façon prédictive <<
Détermine le niveau d'analgésie adéquate
Prédit la balance nociception/anti-nociception
Evite toute nociception excessive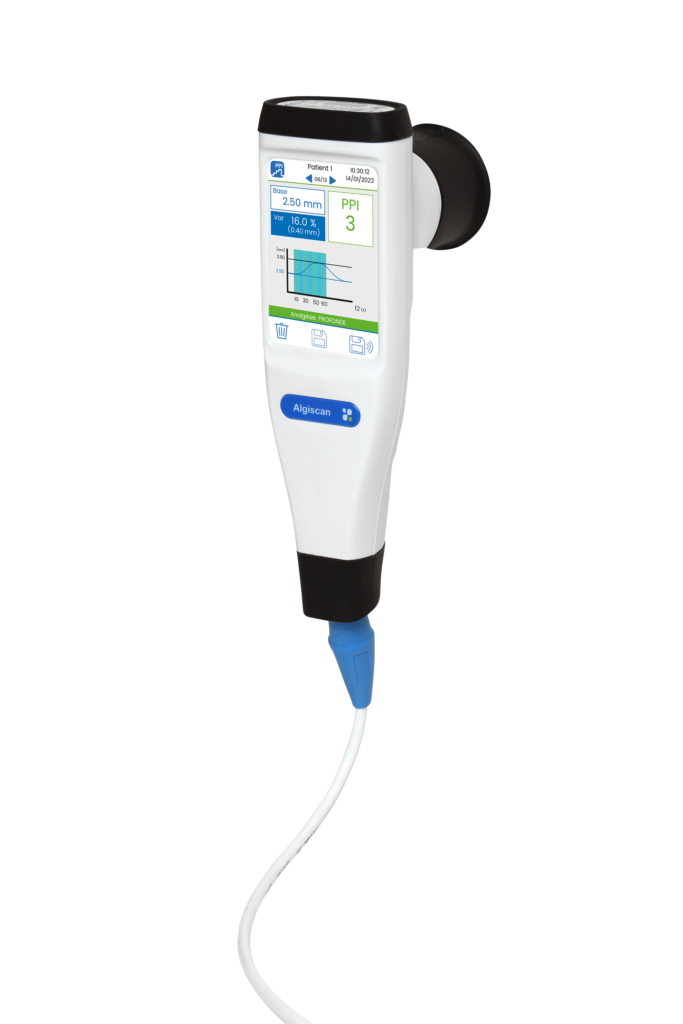 >> Conçu pour une pratique au bloc opératoire et en réanimation <<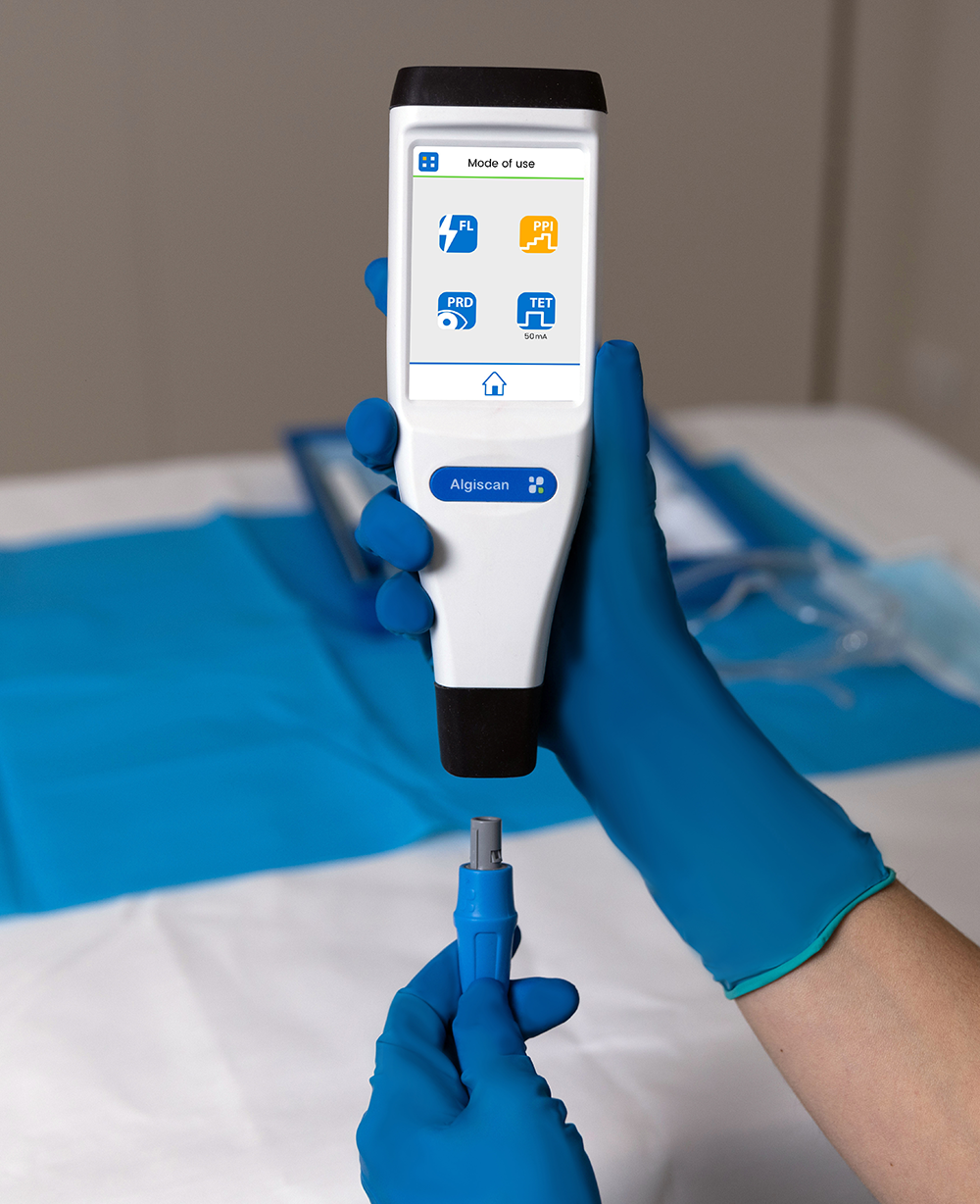 Léger et mobile
Utilisation simple
Embout oculaire réutilisable

• Mesure du niveau d'analgésie des patients (score PPI, Tétanos, etc.)
• Mesure du Réflexe de Dilatation Pupillaire (RDP)
• Mesure de la taille pupillaire
• Mesure du Réflexe PhotoMoteur (RPM)

• Mesures absolues sans étape de calibration
• Base de recharge sans contact
• Identification des patients par lecture des codes-barres
• Embout oculaire réutilisable ou à usage unique

• Stimulations : infra-nociceptive (PPI), Tétanos
• Flash lumineux 320 Lux (1s)
• Précision de mesure 0,1 mm
• Transfert de données
• Oculaire opaque à la lumière ambiante

• EN 60601-1 (sécurité électrique)
• EN 60601-1-2 (CEM)
• IEC 62471 (éclairage infra-rouge)
• Marquage CE Classe 2A (CE 0459)
• Sans latex
une entreprise éco-responsable

Nous sommes une
entreprise eco-responsable

Libre choix de matériel
à usage unique ou réutilisable


Un circuit court
de production
Sabourdin N, Giral T, Wolk R, Louvet N, Constant I.
Pupillometry is a non-invasive monitoring technique, which allows dynamic pupillary diameter measurement by an infrared camera. Pupillary diameter increases in response to nociceptive stimuli. In patients anesthetized with propofol or volatile agents, the magnitude of this pupillary dilation is related to the intensity of the stimulus. Pupillary response to nociceptive stimuli has never been studied under ketamine anesthesia. Our objective was to describe pupillary reflex dilation after calibrated tetanic stimulations in patients receiving intravenous ketamine. After written consent, 24 patients of our pediatric burn care unit were included.
Paulus J, Roquilly A, Beloeil H, Théraud J, Asehnoune K, Lejus C.
This study aimed to evaluate the pupillary dilatation reflex (PDR) during a tetanic stimulation to predict insufficient analgesia before nociceptive stimulation in the intensive care unit (ICU).
Jakuscheit A, Weth J, Lichtner G, Jurth C, Rehberg B, von Dincklage F.
Immediate postoperative pain could be prevented by the administration of long-lasting analgesics before the end of the anaesthesia. However, to prevent over or underdosing of analgesics under anaesthesia, tools are required to estimate the analgesia-nociception balance.
La commercialisation et la disponibilité de nos produits sont dépendantes des pays concernés, pour toutes informations veuillez nous contacter.
Nos collaborateurs et distributeurs sont à votre écoute pour répondre à vos besoins et aux besoins de vos patients.

      Distributeurs implantés
      *Distributors located

      Distributeurs en cours d'implantation
      *Distributors being implemented

3, Rue John Maynard Keynes
13013 Marseille